The GOP & Abortion: A Call to Action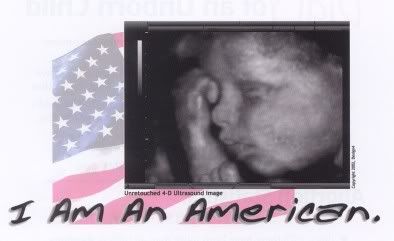 In this interesting article journalist Terence Jeffrey asks why Republicans are so timid about dealing (legislatively) with abortion and "advancing a cause where they occupy the moral and political high ground." There are some great references to RNC Chairman Ken Mehlman and Congressman Hunter's Right to Life Act. Here is some of what Jeffrey has to say:
The Republican Party's pro-life platform -- which Mehlman argues is right for the party -- offers a solution to abortion commensurate with the Bush-Frist-Boehner affirmation that life begins at conception. It endorses "legislation to make it clear that the Fourteenth Amendment's protections apply to unborn children."

In this Congress, Rep. Duncan Hunter, the California Republican, introduced H.R. 552, the Right to Life Act, which follows through on the platform by defining as a "person" for 14th Amendment purposes "all stages of life, including but not limited to the moment of fertilization or cloning." It recognizes in law what Bush, Frist, Boehner and Kerry already recognize in fact.

According to the Alan Guttmacher Institute, 42 million babies were aborted in the United States between 1973 and 2002. Each subsequent year adds about 1.3 million more.

Today, we are having a great national debate, driven by a president at odds with the base of his own party, over how many immigrants we should allow into our country and by what means -- so we can fill a shortage in workers. What if we had a great national debate driven by a president, in unison with the base of his own party, over how many babies we can save?

South Dakota had that debate this year, and the pro-lifers won. The state banned all abortions, only exempting normal medical actions taken by a doctor to preserve the life of a pregnant mother.

What South Dakota proved is that truth is persuasive. All you need are politicians who will fight for it.
Obviously this approach (proudly and passionately fighting for the right to life) contradicts the approach of some folks such as Congressman Tom Davis, who often avoid this fundamental human rights issue so as not to provoke the pro-abortion forces in their district and jeopardize their re-election. Sure, some will put forth all of the "pragmatist" arguments in favor of the Davis approach, i.e. it's better to have someone "neutral" on the issue (assuming you can be neutral on genocide) instead of a radical such as Leslie Byrne. However I give that position about as much respect as I would a politician who refused to take a stand on the dehumanizing segregation issue in the 50s and 60s in order to maintain their political power, or a politician who refused to stand up for the freedom of black slaves in the political turmoil leading up to the Civil War in order to maintain their political popularity/electability (and there are plenty of examples). Congressman Mike Pence said it best in his October 8, 2003 address on the floor of the House, connecting the tragedy of abortion to the other great moral trials in our nation's history:
As we look at those Lincoln and Douglas debates, the arguments that candidate Abraham Lincoln made are extraordinary. He makes the case about the fundamental immorality of slavery; and for all the world, and I intend to do it during the course of these conversations about life, Mr. Speaker, we can take entire tracks of Abraham Lincoln's remarks in the Lincoln and Douglas debates and we can pull out the word "slavery" and put in the word "abortion," and the sentence makes perfect sense as he speaks about the denial of the fundamental right to life and liberty to a class of human beings in America. He spoke about it not in the context of established law, but as we know from history, as did the Rev. Dr. Martin Luther King Jr. in his letter from the Birmingham jail, he spoke about it in the context of the moral law of God.
There should be no respect for neutrality or "moderation" on this issue.