Woman Shoots Gator Attacking Her Dog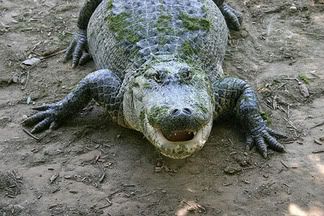 This story is interesting:
"I was running on so much adrenaline," the 48-year-old former U.S. Marine aviation technician told the Sarasota Herald-Tribune. "I just freaked out and shot him _ boom, boom, boom, boom."
And then...
The deputy gave Frey a warning citation for hunting without a license.
Given the fact that gators have recently attacked and killed 3 people in Florida (although there is speculation that 1-2 of these attacks weren't "live"... i.e. someone murdered the victims and then fed their body to the gators) I was surprised to see anyone would so much as cite someone for shooting at one that aggressively came into their home. The authorities in Richmond killed the Maymont bears for attacking a child and they were far more contained than a lone gator that had the chutzpah to go into someone's home... I think the lady had the right idea!
Recent Posts
Old Dominion Blog Alliance
Technorati