Bush Vetoes Federal Funding for the Destruction of Human Beings in the Earliest Stage of Development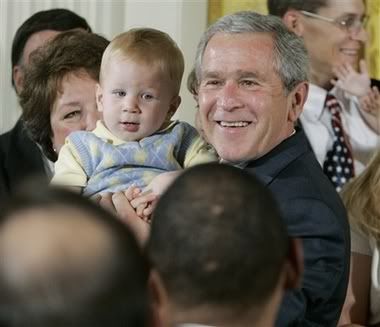 Thank you President Bush. No citizen should be forced to contribute his/her hard earned tax-dollars to pay for the destruction of innocent human life in the name of "science" (despite the fact that there are many more successful ways to use/procure stem cells- all of which do not result in the end in the destruction of a human life.) Via the AP:
President Bush cast the first veto of his 5 1/2-year presidency Wednesday, saying legislation easing limits on federal funding for embryonic stem cell research "crosses a moral boundary" and is wrong.

"This bill would support the taking of innocent human life in the hope of finding medical benefits for others," Bush said at a White House event where he was surrounded by 18 families who "adopted" frozen embryos not used by other couples, and then used those leftover embryos to have children.

"Each of these children was still adopted while still an embryo and has been blessed with a chance to grow, to grow up in a loving family. These boys and girls are not spare parts," he said. [Emphasis mine}
More information found here.
UPDATE: More information/discussion of the President's courageous stand can be found here and here.