Fire Ants on the Rise in Virginia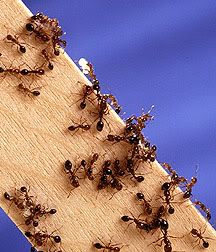 Via the AP:
Fire ants are showing up in greater numbers in coastal Virginia, much to the alarm of gardeners and farmers who dare disturb their nests.

"The way they bite, you would think they were the size of an alligator ... " said Carl Lohafer, a Virginia Beach resident who discovered colonies in his yard two years ago. "It was like a hot poker jabbing you."
Hopefully these nasty little beasts don't advance any further north...
Experts believe the ants will reach a northern point where the winter weather will stop their progress, perhaps Richmond or northern Virginia.
Learn more here.
UPDATED: Due to popular demand (well, at least one comment below, sort of) I am linking to the Top Ten Tips on Fighting Fire Ants (courtesy of AMDRO Fire Ant Baits)- check it out here. Enjoy!
Recent Comments
Recent Posts
Old Dominion Blog Alliance
Technorati