Beyond Marriage & The Princeton Principles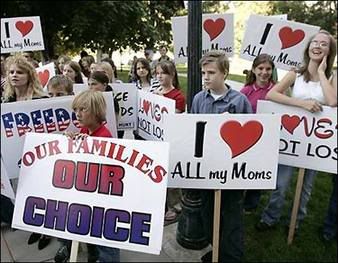 Lately I've fallen far short of my previous blogging pace—I've been using most of what free time I have outside of work and family obligations to support the Marriage Amendment (and let's be honest… the blogosphere is not the most effective way to do that given most folks here already know where they stand and need little motivation to become politically active… I am trying to reach those who may not be aware of the Marriage Amendment and may only be exposed to the $3 million misinformation campaign planned by the anti-Marriage Amendment coalition). It'll be great to get back into the swing of things here at NOVA TH once E-Day has come and gone but I have to say it is refreshing to make phone calls and go door-to-door—meeting so many enthusiastic supporters of the amendment!
Speaking of the Marriage Amendment, I am surprised nobody has posted on this yet, but on August 17th the Weekly Standard published an article by Ryan Anderson titled "Beyond Gay Marriage: The stated goal of these prominent gay activists is no longer merely the freedom to live as they want." This piece is relevant to the debate raging in Virginia because it highlights A) the logical extension of the warm and fuzzy No-Fault Freedom arguments being advanced by same-sex "marriage" advocates; and B) it yet again demonstrates what side can be trusted in this debate—whose claims are unsubstantiated misinformation efforts and whose are not (in this case validating some of the long mentioned concerns held by defenders of marriage).
Anderson's article discusses the once dismissed "slippery slope" argument: if marriage, as it is currently defined (and as it has been for much of human history), is dramatically redefined (in this case via unelected judges) to no longer mean the unique union of the two complementary parts of the human organism… there will no longer be a satisfactory reason to deny similar benefits/status to a whole host of relationships beyond monogamous same-sex couples. He says:
…Gay marriage's "conservative" proponents have countered that the model of opposite-sex marriage, with its norms of monogamy, exclusivity, and permanence, could apply just as well to same-sex partners. That everything which makes a marital relationship worthwhile to heterosexual spouses, to their children, and to the state would apply to gay couples as well. Essentially, that same-sex partners want the exact same things as straight couples. And that basic fairness requires recognition of their relationships by the government.

Defenders of marriage saw through this. Scholars like Hadley Arkes and Robert P. George noted that by rejecting the grounding foundation of marriage--the unique psychosomatic unity possible only between one man and one woman in conjugal sex--the state would lose the principled basis for refusing to recognize polygamous (one man to multiple women) or even polyamorous (multiple men to multiple women, i.e. group) marriages. For pointing this out, they were called slippery-slope reasoners, scaremongers, and bigots. After all, it was said, no one seriously argues in favor of state-sanctioned polygamy or polyamory; George and Arkes were just slandering the good name and intentions of same-sex marriage activists.

It turns out that George and Arkes's points were not slanderous, but prophetic.
He goes on to discuss the" Beyond Same-Sex Marriage" statement put forward by a group (Beyond Marriage) composed of 250 "scholars, civic leaders, and LGBT activists" recently published as a full-page ad in the "New York Times." The broad spectrum of relationships endorsed by these same-sex "marriage" activists/leaders is truly shocking:
The statement lists several examples of such relationships, among them "committed, loving households in which there is more than one conjugal partner"--that is, polygamy and polyamory. But this is mild compared to what follows: demand for the legal recognition of "queer couples who decide to jointly create and raise a child with another queer person or couple, in two households." The language is breathtaking. Queer couples (plural) who jointly create a child? And intentionally raise the child in two (queer) households? Of course, no reference is made to the child's interests or welfare under such an arrangement--only to the fulfillment of adult desires by suitable "creations."
If you don't believe Anderson's description, go right to the source and read the document itself! Here is a quote directly from the organization Beyond Marriage.org:
Marriage is not the only worthy form of family or relationship, and it should not be legally and economically privileged above all others. While we honor those for whom marriage is the most meaningful personal--for some, also a deeply spiritual--choice, we believe that many other kinds of kinship relationships, households, and families must also be accorded recognition.
And folks, these signatories aren't all no-name ultra-fringe people! They include Gloria Steinem, Barbara Ehrenreich, Cornel West, etc. These are (apparently) respected leaders within the same-sex "marriage" movement.
Anderson concludes his discussion of the Beyond Marriage statement by making the point that there truly is no middle way between the demands of those wishing to radically and fundamentally redefine marriage. He says:
The stated goal of these prominent gay activists is no longer merely the freedom to live as they want. Rather, it is to force you, your family, and the state to recognize and respect their myriad choices. The result of meeting these demands will be a culture, a legal system, and a government that considers a monogamous, exclusive, permanent sexual relationship of child-bearing and child-rearing nothing more than one among many lifestyle choices.
Still think this isn't a legitimate/real concern? Why don't you check out the Unitarian Universalists website where they already have a "Polyamory Awareness" support group:
Polyamory Awareness: It is possible to love more than one person at a time with honesty and integrity. If your family is polyamorous or if you have questions, you are not alone. UUs for Polyamory Awareness invites you to join us in providing support, promoting education, and encouraging spiritual wholeness. Speakers available. UUPA, 2111 Lido Circle, Stockton, CA 95207, www.uupa.org.
Or check out this Fox News report on pro-polygamist teens who are rallying to "defend their families" (sound familiar?) out in Utah. Here is a statement from one activist:
"Because of our beliefs, many of our people have been incarcerated and had their basic human rights stripped of them, namely life, liberty and the pursuit of happiness," said a 19-year-old identified only as Tyler. "I didn't come here today to ask for your permission to live my beliefs. I shouldn't have to."
Gee… sounds like a very familiar emotional appeal. I would love to hear a same-sex "marriage" advocate explain to me how, if some judge (and that is what is the issue with the Marriage Amendment—opponents want to leave Virginia vulnerable to judicial redefinition of marriage) rips what Anderson eloquently called "the grounding foundation of marriage--the unique psychosomatic unity possible only between one man and one woman in conjugal sex" from the definition of marriage… how do you justify denying these polygamist and polyamorist demands?
I'd be remiss if I didn't mention the other aspect of Anderson's article. He brings our attention to the Princeton Principles, a scholarly document officially titled "Marriage and the Public Good: Ten Principles." This is document is effectively the opposite of the Beyond Marriage document and uses the best academic findings on marriage and family to verify what we already know—marriage as the union of one-man, one-woman is a unique and valuable relationship worthy of protection. Here at NOVA TH we have some regulars who don't believe children deserve a mother and a father. They would support alternative relationships designed to deny children exactly that which is so important to their success— a mom and a dad. The Princeton Principles (and Anderson's concluding comments) strike right at the heart of this fantasy and validate what most of us already know:
Many noted think tanks and sociologists, regardless of political persuasion, have affirmed the findings of the scholars who contributed to the Principles. The Woodrow Wilson School at Princeton University and the left-of-center Brookings Institution, for example, confirmed the Principles' claims regarding child well-being. In a 2005 issue of their jointly produced journal, The Future of Children, titled, "Marriage and Child Wellbeing," the editors write in their introduction, "The articles in this volume confirm that children benefit from growing up with two married biological parents." Likewise, the left-leaning research organization Child Trends echoed these conclusions in a research brief summing up the scholarly consensus:

"Research clearly demonstrates that family structure matters for children, and the family structure that helps the most is a family headed by two-biological parents in a low-conflict marriage. Children in single-parent families, children born to unmarried mothers, and children in stepfamilies or cohabiting relationships face higher risks of poor outcomes. . . . There is thus value for children in promoting strong, stable marriages between biological parents."
While it seems some are willing to discuss the true benefits of marriage (and the negative impact to be had in allowing some judge to radically redefine marriage) in the Virginia blogosphere… the anti-Marriage Amendment campaign has strategically chosen to circumvent the real issue (because they know they would lose) and instead toss out the same tired old red-herring voter confusion tactics we have seen in the 20 other states that have passed similar Marriage Amendments (all unmarried rights will crumble, etc) despite the lack of evidence to support their claims. Want a taste of what we'll actually see from the well financed anti-Marriage Amendment coalition? Here is one of the unsubstantiated alarmist ads their allies are already running in Wisconsin:
Between this kind of absurd misinformation and the usual "bigot" accusations we can expect a real honest and civil discourse as November looms (note sarcasm). Hopefully the grassroots campaign to defend marriage can withstand this high-dollar misinformation onslaught. Please go to VA4Marriage to signup to help ensure we protect marriage.