Congressman Jindal Delivers His Own Son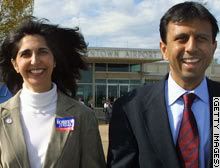 Louisiana Congressman Bobby Jindal is a very impressive Republican and rock-solid pro-family conservative who lost his race to become Governor a few years back by a very narrow margin. I expect he'll be running statewide again sometime soon.
His wife, Supriya, unexpectedly gave birth to their son early Tuesday morning... in their own home. Congressman Jindal had to help deliver the baby himself and used a shoestring to tie off the umbilical cord until the ambulance arrived. Congratulations Congressman!
Williams [Jindal spokesma] said Jindal had dreamed of becoming a doctor: "He kind of got to play that role today."
Full coverage can be found here.
Recent Posts
Old Dominion Blog Alliance
Technorati