UPDATED: McDonnell, Bolling, and Tax Hike Proposals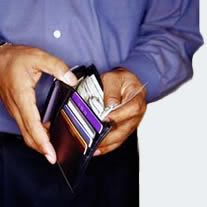 With the Commonwealth coming off of the successful passage of the freshly minted Virginia Marriage Amendment, we all should be grateful for the strong support it received from both our Attorney General and Lieutenant Governor. It was great to see both of these Republican leaders come out swinging despite the well-funded deception campaign orchestrated by the anti-Marriage Amendment crowd (our other statewide official, Governor Kaine, lacked similar courage and quickly broke his campaign promise to support the amendment). Coming off this experience, it is hard for me, as a conservative, to fathom having to choose between these two leaders in the battle for the GOP's 2009 gubernatorial nomination.
However, if some recent stories are true the choice may be becoming a bit clearer. Spank That Donkey and Bearing Drift have posts up discussing purported meetings involving the Attorney General focused on generating a "compromise" on transportation funding that involve yet again raising taxes on Virginia families despite the massive surplus available. Meanwhile, Lt. Governor Bolling has clearly remained true to his principles and campaign promises and is pushing the General Assembly to address the transportation issue without raising our taxes. The most comprehensive MSM coverage of this development seems to be the Washington Times article, which states:
As the General Assembly began its session, some Republicans -- with the backing of Attorney General Robert McDonnell, House Speaker William Howell and Senate Finance Committee Chairman John Chichester -- have been meeting to discuss a transportation "compromise" that could include tax increases.
For more background on this and on Bolling's solid opposition to a tax hike, please see these other articles found here, here, here, and here.
As a resident of Northern Virginia I am (unfortunately) well aware of our troubled transportation system... and it is good that both men are speaking to this issue. That said, the problem is not one of revenue but one of spending (as Bolling rightly points out)... and when we have $1 billion in surplus state funds lying around and we had a massive tax hike just a few years ago the last thing the General Assembly should be doing is talking about raising taxes some more! Adding to our already significant (more so now thanks to Governor Warner's broken promises) tax burden when there is a large surplus and ongoing simultaneously efforts to create major new spending programs (see Kaine's universal pre-K proposal) will not help me get off of I-66 or I-495 and home to be with my family any quicker.
Bolling's unwavering position appears to be quite a contrast with McDonnell's apparent association with the Senate Overlord's tax hike proposal... especially when taken into consideration along with McDonnell's support for the 2002 tax hike referenda (which somehow I didn't know about until recently... how did I miss that?). Is the AG undermining his principled low-tax position? I certainly hope this is all simply flawed information... maybe McDonnell would be interested in coming online and quelling our concerns by participating in a Northern Virginia live-blog session similar to the one the Lt. Governor did just a week or so ago?
UPDATE: It appears some sort of transportation deal has been reached (see here and here). More soon...
UPDATE II: From the AG's office:
Statement of Attorney General Bob McDonnell on Transportation Announcement

"The Republican leadership in the General Assembly has crafted a comprehensive, long-term solution to improve our transportation systems in the Commonwealth. This plan combines statewide funding and accountability proposals along with regional options for Hampton Roads and Northern Virginia. This is a transportation plan that invests more money into transportation than proposed by the Governor, without a statewide tax increase, and requires new system reforms and spending cuts. Leadership is about finding common sense solutions and the House and Senate Republican leadership has crafted a plan to address the most significant public policy issue facing the Commonwealth."

"While no compromise plan is perfect, there are major elements of this plan that are very positive. The long-term commitment of 50 percent of the state surplus, as well as hundreds of millions in general fund dollars to transportation is a decision that demonstrates Republicans understand the importance of transportation to the economic future of Virginia. Locking up the transportation trust fund is a move I have long called for, and it will restore trust in transportation spending. Issuing bonds in a time of low interest rates to start long delayed projects is a proactive step that will produce results promptly for the people of Virginia. Enacting major reforms to improve the effectiveness at VDOT, to revise Virginia's land use policies, and to implement long term spending and accountability programs are forward-thinking achievements. Using surplus money to jumpstart public-private partnerships is an excellent idea to promote market-based solutions. The regional self-help options provided to the congested areas of Hampton Roads and Northern Virginia honor the Republican principle of local decision making and subsidiarity. It allows for progress on transportation as determined by the needs of local elected officials. These plans collectively repeal approximately $800 million in local income tax revenue authority, and replace it with authority of approximately $600 million in revenues. The proposal produced today provides the transportation solution Virginians have been calling for, while avoiding an unnecessary statewide tax increase in this time of budget surpluses. This is a conservative plan that will work for Virginia."

"Forbes' magazine has ranked Virginia the most business-friendly state in the country, while 'Governing' magazine has ranked us as the best governed state. With Republican leadership, we have a state with one of the highest per-capita incomes, and lower per-capita tax rates. To keep this distinction, we must lead and produce results for our citizens. Improving transportation is an economic issue, and it is a quality of life issue. Congested roads hurt Virginia businesses, and they keep parents stuck in traffic instead of home with their children. The failure to find solutions to our transportation problems imperils our future prosperity. Virginia Republican leaders have acted in a cooperative and diligent manner to create a comprehensive transportation plan. I congratulate the Republican legislators for their effort and support their work."
Interesting to note the Attorney General repeatedly says this plan is "without a statewide tax increase."