Surprise, Surprise: Ant-Marriage Amendment Campaign Rhetoric Proves Hollow
First, I'll start off with a nice wedding picture. Since the radical activists seeking to redefine marriage seem to really appreciate that.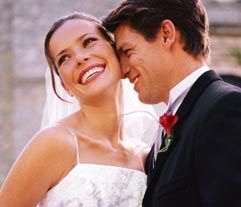 Now, the reason for my post (better late than never, right?):
Victoria Cobb, President
Friday, July 27, 2007

Information Alert: Truth be told

Earlier this week, The Ohio state Supreme Court dismissed arguments that Ohio's marriage amendment undermined that state's domestic violence laws (State v. Carswell). I'm sure you vividly remember that opponents of Virginia's marriage amendment attempted to scare Virginians into voting against the amendment by pointing to the controversy in Ohio last fall.

This week's decision reaffirms what we said all during last fall's bitter campaign - the so-called "unintended consequences" arguments used against the marriage amendment were a figment of the opposition's imagination. As was clearly articulated in Attorney General Bob McDonnell's opinion of Virginia's marriage amendment, no one was going to lose a single existing right when that amendment was implemented.

Virginians can rest assured that domestic violence laws in this state will protect them. I hope that Virginians hold in contempt those who took the serious problem of domestic abuse and used the fears of women in crisis to try to accomplish their political agenda.

Marriage Commission

Almost two weeks ago I told you about The Family Foundation's efforts to reduce the divorce rate in Virginia. We recently convened the first meeting of our marriage commission to study the issue. Well, it didn't take long for the story to hit the media. We've been fielding calls for several days, and from media outlets as far away as Seattle, Washington!

Much of the coverage, particularly on talk radio has been less than flattering. It seems that there are many people out there who don't think a 50 percent divorce rate is such a bad thing. Or if they admit its too high, they simply throw up their hands and say that nothing can be done.

Regardless of the naysayers and those who simply criticize instead of seeking solutions, we are going to continue to look at this decidedly complicated issue in an attempt to seek real solutions.

Below is a sample of the media stories concerning the commission:

Va. Foundation seeks to reduce divorces - Washington Post, 7/26/2007
New Commission aims to make divorce harder - Virginian Pilot, 7/22/2007
Family Foundation focuses on divorce - WSET TV, Lynchburg
A marriage made in politics - Roanoke Times Editorial Page, 7/24/2007
Not surprising to see the cornerstone of the anti-Marriage Amendment folks' argument disintegrate. Let's not forget their entire million dollar plus effort was focused on distorting the issue and scaring voters about "unintended consequences" when in truth they were/are simply against the intended and real consequence-- constitutionally protecting marriage from radical redefinition via judicial decree.
I look forward to hearing more from the Family Foundation's Marriage Commission on ways our Commonwealth can support and encourage healthy marriages and prevent family dissolution and more children being raised without a loving mother and father under the same roof.